The Foie Gras Burger vs. the Surf N' Turf Burger… Oh what a world we live in |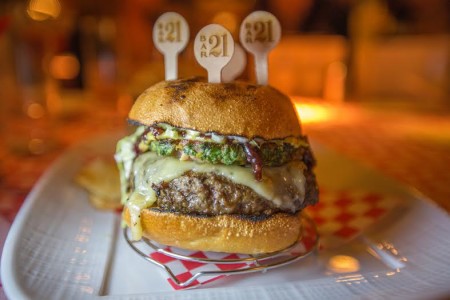 I have mixed feelings about the Burger Bash at the New York Wine & Food Festival. But I had positive feelings when 21 Club asked for help putting their best burger forward at the event. 21 Club invited a group of what they called burger experts to their restaurant to help them decide whether their Foie Gras Burger or their Classic 21 Duo (a surf n' turf burger) would be their submission at the big event in October.
It became apparent to me that 21 Club would get an educated pick at the end of the night when I saw that the other guests were indeed other burger fanatics (Burger Lift, Skinny Pig, Gotham Burger Social Club, Brunch Boys, One Hungry Jew, and Feed Your Soull). We wasted no time in chowing down on both burgers.
Burgers Ordered
The Foie and the Classic 21 Duo
The Taste
The Foie starts with a beef patty from Master Purveyors, topped with a foie gras and duck cured pork pate, Swiss cheese, onion marmalade, lettuce, tomato, and tarragon mustard aioli. The Classic 21 Duo was made of the same patty, 21s Club's Classic '21' Crab Cake, bacon, and all the other stuff that the Foie has, minus the duck patty. Picking between the two burgers was difficult. In all honesty, they tasted quite similar. This isn't surprising given that they had so many of the same toppings.
However, the Foie edged out the victory for me. The duck pate gave the burger a fanciful double patty vibe. And though the crab patty was interesting, and I could see why one would order it on its own, it wasn't as tasty or as inherently "burgery" as the duck pate. Moreover, the house-made chips that were served with the burgers were absolute knockouts.
The Verdict
The 21 Club nailed it with the Foie, which should be a real highlight at the Burger Bash. The Foie is being served at 21 Club until the Bash in October, so check it out, enjoy the chips, and get a great cocktail while you're there.
21 Club is located at 21 West 52nd Street in New York, New York.
Sign up for Burger Weekly email updates!