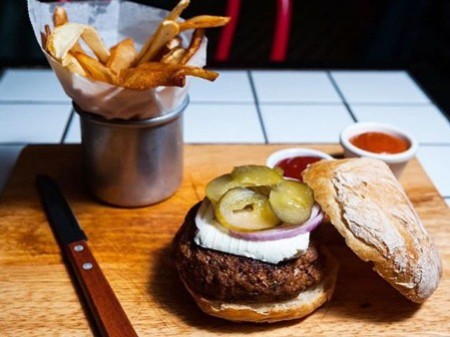 12 Chairs is a huge reason that leaving Williamsburg is going to be difficult. This lovely Israeli oasis has another outpost in SoHo, but I've only ever been to the one in Brooklyn. Recently, after leaving a nearby bar (that also has a good burger), I stopped into 12 Chairs late night to get some blintzes that may have saved my life. At the very least, they saved my following day. But this post is not about that night's drunken adventure. It's about the lamb burger.
Burger Ordered: Lamburger
The Taste: The Lamburger is a ground lamb patty topped with feta cheese, red onion, Israeli pickle and spicy mayo. This burger has all of the elements needed to make a classic, delicious lamb burger, and it is exactly that. However, it stands out from the rest in two ways, one negative and one positive. The negative way is that the bun is a little on the rough and hefty side. I sidestepped the issue by removing the top of the bun and eating it open-faced. A lamb burger is already two steps away from a traditional burger, so it didn't feel sacrilege to eat it in an untraditional manner.
The positive stand out element is more important though, and that is the spicy mayo. Not commonly found in the feta-pickle-lamb mix. But it works so well that I'll be thinking about it long after I've been totally forgotten by everyone in the neighborhood.
The "home fries" that come with the burger are also notable for being very tasty, for being unique, and for not being home fries. They were something of a mutant steak fry, and I really enjoyed washing them down with my Goldstar beer.
The Verdict: The word is already out that there is amazing Israeli food at 12 Chairs, but don't sleep on the Lamburger. They have a hamburger too, but when you're at 12 Chairs, I implore you to go ovine.
12 Chairs Cafe is located at 342 Wythe Avenue in Brooklyn, New York.
Sign up for Burger Weekly email updates!